Appointment Booking Software – Use Cases
Efficiency and convenience are now crucial in every aspect of our lives in today's fast-paced society. Appointment scheduling and management can be a time-consuming task that can make it frustrating, whether it is for personal or professional reasons. However, with the introduction of the scheduling software, these problems are being addressed with creative answers that speed up the procedure.
In this blog, we will look at industries where appointment booking software has changed how businesses and individuals manage their schedules.
Car washing appointment
Customers can book their appointments online through a customer app. The software offers multiple payment options to customers. The service provider's panel automates the complete car detailing and washing services business online with a single click. You can implement a number of efficient strategies to foster customer loyalty and retain your customers by utilising the sophisticated features of car detailing software.
Beauty salons and spas
Booking software improves customer satisfaction in salons, spas, and other service-related businesses. Customers can conveniently schedule haircuts, facials, massages, and other services at their preferred times. It reduces waiting times and guarantees customers get the services they want when needed. Additionally, the software can automatically remind customers, lowering no-show rates and assisting companies in better managing their schedules.
Lawn care specialist
Lawn care service booking allows customers to hire experts to shape their lawns with just a few clicks. Online appointment booking removes the hassle of calling the company to schedule the appointment. Simple and efficient features of the lawn care specialist booking software automate business operations, improving customer satisfaction scores.
Electrician booking
Integrating electrician booking software allows customers to book the service at any time and gives a complete record of the clients, total bookings, and updates, increasing productivity and transparency. We offer – a customer app, an electrical app, and an admin app.
Handyman booking
Handyman booking software is a simple and user-friendly platform that makes booking handyman appointments easy. It makes the business efficient and boosts your revenue. Improved revenue graphs, simple billing, online appointment scheduling with a handyman, and easy customer interaction facilitate the growth of a sizable customer base. Online users can book appointments whenever they want by providing a client-focused approach, which will save you time and broaden the reach of your business.
Commercial cleaning
Online booking software helps organise, manage, and automate the business. Whether the cleaning is for an office, school, clinic, etc., online commercial cleaning services allow you to keep every appointment. Since your client can easily book an appointment with a few clicks on the screen.
Plumber booking
The plumber booking system uses online plumber booking software to automate the entire scheduling process. It enables you to work and manage the business without hassle on a single screen and makes your service solutions customer-centric. Online users can book appointments from anywhere, at any time, which saves them time. It is an excellent way to interact with customers and effectively navigate the plumbing industry.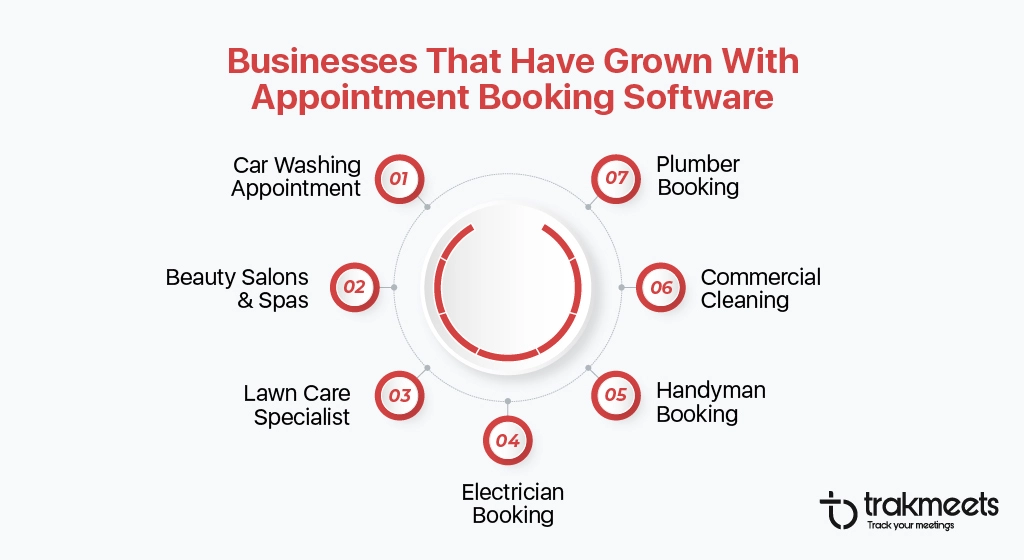 Software for scheduling appointments has evolved into a useful and essential tool in a variety of industries. It is a valuable asset for businesses and organisations of all sizes because of its capacity to improve customer or client experiences, streamline scheduling procedures, and increase overall efficiency.
Appointment scheduling software will likely play a bigger part in making our lives easier and in improving how we handle our appointments as technology progresses. Including appointment booking software in your business operations can unquestionably result in higher productivity and client satisfaction, regardless of whether you run a healthcare facility, service-based company, educational institution, or government organisation.